1½ cups flour
1 teaspoon baking soda
1/2 cup butter, softened
2 eggs
1 cup sugar, + ½ cup for dusting
1 tablespoon vanilla extract
1/2 tablespoon pure lemon extract
1/2 cup milk
1/4 cup cinnamon, for dusting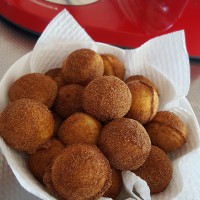 Cuisine: Party Food
Cooking time: 5 mins
Serving: 40 people
Step 1.
Fill a large bowl with cinnamon and sugar to top and set aside.
Step 2.
Cream together sugar and butter in a stand mixer.
Step 3.
Add in eggs, mix thoroughly.
Step 4.
Add in vanilla, milk and extracts.
Step 5.
Slowly fold in flour and baking soda, do not over mix.
Step 6.
Pour batter into a piping bag.
Step 7.
Squeeze batter to fill bottom of a well heated and greased cake pop machine. (You could also make these in a cake pop tray and bake accordingly)
Step 8.
Cook according to manufacturers directions (about 5 minutes).
Step 9.
While hot coat in sugar and cinnamon and toss to evenly coat.
Eat immediately and enjoy! Everyone loved these donut holes!