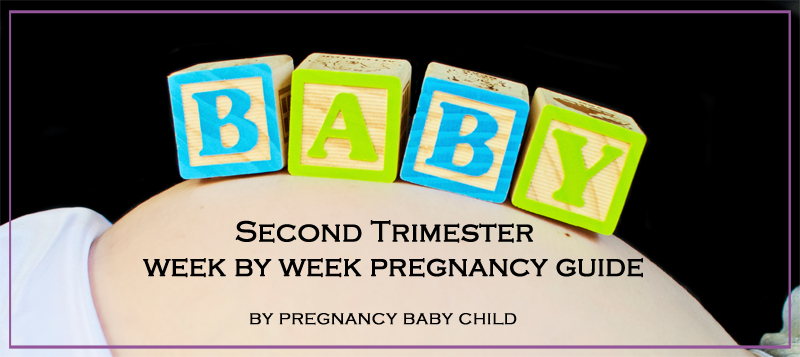 Week 14 of Pregnancy – The first week of the second trimester sees the chance of miscarriage decrease significantly. While many pregnancy symptoms have settled down, your senses may be working overtime and very sensitive to some smells making you feel sick. Your cardiac output has also reached a maximum by week 14 of pregnancy. At this stage of your pregnancy, your baby will be a little hairy and not just on its head!
Week 15 of Pregnancy – Most women begin to show anywhere from 14 to 20 weeks and you may also notice a thin line appear on your abdomen. You may be noticing continued changes to your breasts and nipples during the second trimester, a supportive bra will help with any feelings of discomfort.
Week 16 of Pregnancy – An increase of blood volume during pregnancy has some unwanted side effects such as sinus. Clothes getting a little tight? By week 16 of pregnancy you may start to consider investing in maternity clothes to feel comfortable as your body expands to accommodate your growing baby. Feeling a fluttering sensation? This is called quickening and is your baby moving. But don't worry if you can't feel your baby moving yet, for a first time pregnancy movement is not usually felt for some weeks.
Week 17 of Pregnancy – Flutters in your tummy may be your baby moving, you will begin to feel this more often with kicks starting in about one month. It's time to de-stress to help avoid pre-term labour. Don't let your emotions get the better of you. Your baby will start to hear your voice as their little ears develop. Your voice will be comforting to your baby, so start talking to it as much as possible.
Week 18 of Pregnancy – From 18 weeks of pregnancy you will have another ultrasound to check on the progress of your baby. It is also possible to detect the sex of your little one – that is if they cooperate with the ultrasound technician! As your belly grows, sleeping may start to be difficult. Pillows and pregnancy pillows can help to support your growing stomach to help get a good nights sleep. Your baby is starting to look more human as they continue to grow and facial features develop.
Week 19 of Pregnancy – During pregnancy you should be very mindful of your blood pressure. If you feel dizzy or lightheaded it can be a sign of low blood pressure. To avoid low blood pressure do not skip meals and eat regular small meals rather than 3 large meals a day. From 19 weeks of pregnancy your tummy on average will grow 1cm a week and your center of gravity will change making some tasks difficult. Physically and mentally your baby grows, developing your baby's five senses. Your baby will even respond to touch, try rubbing and poking your abdomen and see your baby react.
Week 20 of Pregnancy – Congratulations, you have reached the half way mark of your pregnancy! Remember every pregnancy is different, some babies come early, others come late with most pregnancies lasting from 38 to 42 weeks. Now is the time to consider birthing classes to help prepare you both for labour and parenthood.
Week 21 of Pregnancy – As your body grows you will start to notice some aches and pains. There are many ways to help with pain relief, read about them in this weeks article. Most women will get stretch marks during pregnancy as your belly expands, these usually fade 3 months after pregnancy. Do you know the sex of your baby? Find out the differences between the development of boy and girl babies at 21 weeks of pregnancy.
Week 22 of Pregnancy – Feeling your baby move is one of the most amazing parts of pregnancy, from 22 weeks your baby's rolls and kicks will be much more noticeable. Unfortunately also at this stage of pregnancy you may be facing some more unpleasant symptoms of pregnancy such as constipation, heartburn and bladder infections. Just remember, while you face the discomforts of pregnancy your baby is growing and will bring much joy to your life when he/she arrives in about 8 weeks time!
Week 23 of Pregnancy – Not just mummy will be feeling the baby move from now, but daddy and other family and friends will be able to join in the fun. From 23 weeks of pregnancy you will be putting on approximately 500 grams per week, but remember every woman and every pregnancy is different – consult a doctor if you are ever concerned about any part of your pregnancy.
Week 24 of Pregnancy – A tightening sensation or irregular squeezing feeling in your abdomen is actually Braxton hicks, your body practicing for labour. This feeling may be very weak at this stage of pregnancy however will generally be much more prominent in weeks to come. In your third trimester, Braxton hick contractions can be mistaken for the real thing! Until now your baby hasn't known which way is up, as your baby's inner ear develops they will now be able to tell their position within the womb.
Week 25 of Pregnancy – A sudden burst of energy may have you planning and decorating for your baby's arrival. Just remember to not go over board with buying baby things, you really don't need a lot of products to care for a baby like some people lead you to believe. Your growing belly may be putting extra pressure on your back and pelvis, do your best to relieve pain and stay comfortable.
Week 26 of Pregnancy – From 26 weeks of pregnancy become aware about the signs of pre-term labour, more than 4 contractions in an hour can be an early warning sign. If you haven't already, birthing classes can help you to feel more at ease and make you informed about what to expect for the birth and becoming a mum. Try not to focus on the scales, as long as you are healthy there is no reason to stress about your weight gain.