2 Tablespoons of Vegetable Oil
1 White Onion, very finely diced
1 Carrot, peeled & grated
2 Teaspoons of Dried Italian Herbs
1 Teaspoon of Garlic Powder
1 1/2 Cups of Breadcrumbs
500 grams of Beef Mince
250 grams of Pork Mince
2 Tablespoons of Tomato Paste
1 Tablespoon of Soy Sauce
3 Sheets of Puff Pastry
3 Eggs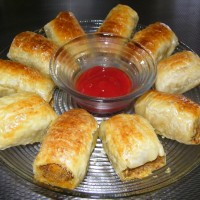 Cuisine: Party Food
Cooking time: 35 mins
Serving: 4 people
Step 1
Preheat the oven to 190 degrees celsius and line two trays with baking paper.
Step 2
Heat oil in a pan over medium heat and saute the onion and carrot. Mix in the herbs, garlic powder and one cup of the breadcrumbs. Set aside to cool.
Step 3
In a mixing bowl, combine minces, tomato paste, soy sauce and one egg until smooth.
Step 4
Fold in the onion mixture and beat well until mixture is sticky.
Step 5
Roll out two 3cm wide cylinders, coating them with the remaining breadcrumbs.
Step 6
Beat another egg and brush onto the pastry sheets.
Step 7
Put one mince log at the end of one pastry sheet and roll up until the pastry just overlaps.  Trim any excess pastry and put roll seam side down onto a tray. Repeat until all mince has been used.
Step 8
Beat the remaining egg, brush onto the sausage rolls and cut them into desired lengths.
Step 9
Bake for 35 minutes or until pastry is golden and crisp.
Step 10
Cool slightly on a wire rack before serving.